Chicago Architecture Taking Center Stage
With theaters still shuttered and outdoor performances not quite up and running yet, how are Chicago theatergoers to get their drama fix after emerging from more than a year of isolation? They can look to Chicogo's storied architecture.

From the Spanish Colonial Revival Wrigley Building to the Mid-Century Modern Marina City, Chicago boasts a treasure trove of iconic architecture. Some examples are a little bit playful, some take themselves a little too seriously and still others are the source of just a bit of anxiety and discomfort. It only takes a little bit of imagination to dive into their stories as you might with a great theater production, and what better (and relatively safe) way to do it than on a Chicago river cruise?
Lots of great tour companies are out there, so take a moment to find one that best suits your needs. For the purposes of our exploration, we chose the cruise offered by the Chicago Architecture Center (CAC) aboard Chicago's First Lady. This non-profit organization has been around for over 50 years and is the leading organization devoted to celebrating and promoting Chicago as a center of architectural innovation. Choose from a daytime cruise or an evening option (for the most dramatic lighting), and don't forget that the CAC also offers walking tours if you want to enjoy the drama of Chicago's architecture beyond the banks of the river.
Let's set sail!
The Wrigley Building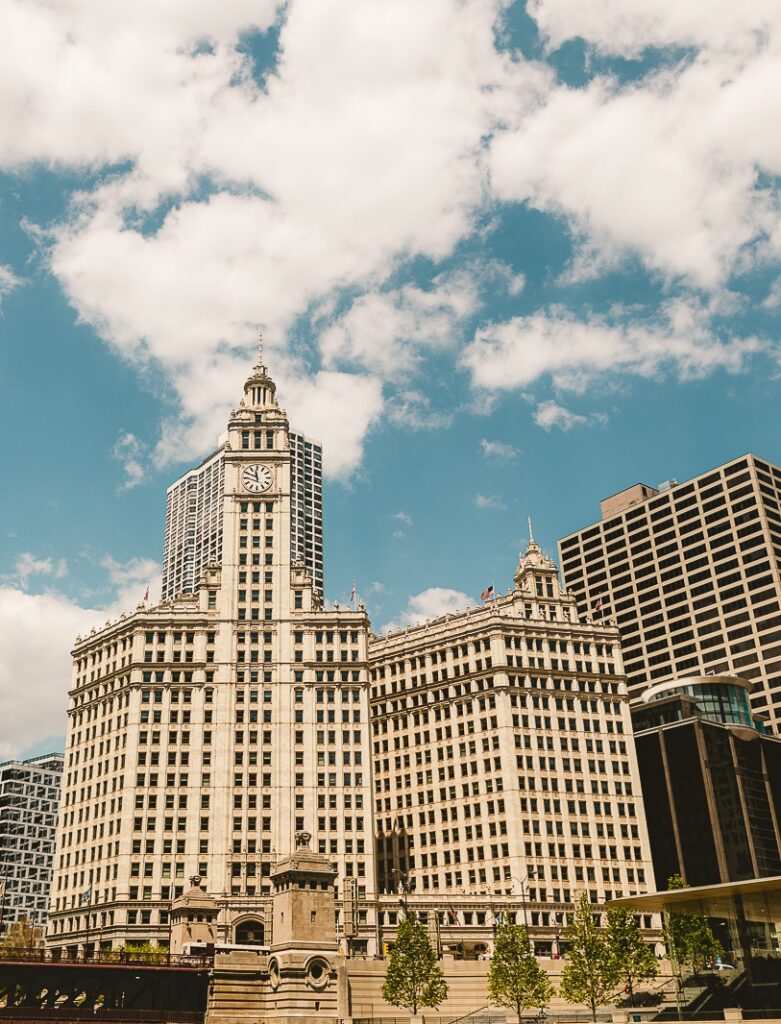 Its official name is the William Wrigley, Jr. Building, and it's one of the very first structures you'll learn about as you shove off. An iconic part of Chicago history and architecture, the Wrigley Building and its reassuring clock tower are like some of the old chestnuts of dramatic literature — always dependable, a crowd-pleaser, and unlikely to offend anyone at this point. Don't be fooled though. Just as the Goodman and Chicago Shakespeare Theatre often reimagine the classics, the Wrigley Building has kept up with the times becoming the first air-conditioned office building in 1946, earning LEED certification in 2011, and adding rooms for nursing mothers in 2017.
35 E. Wacker (a.k.a. The Jewelers' Building)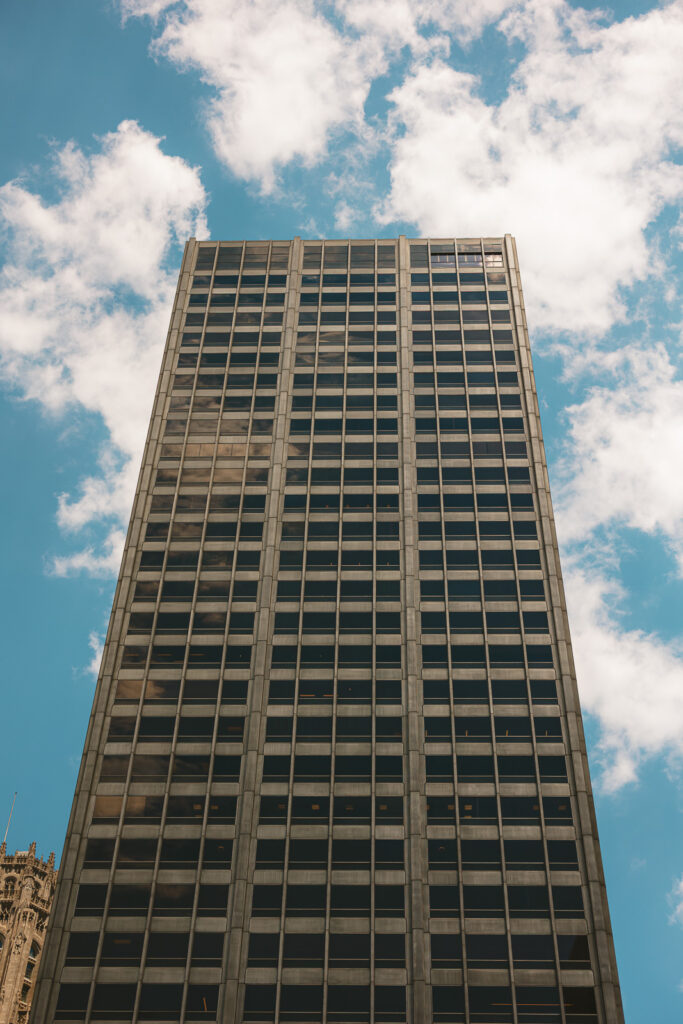 This Beaux Arts Building is incredibly ornate and its story is as much fun as its appearance. Originally home to jewelry craftspeople and merchants, the Jewelers' Building bragged about its car lifts that allowed merchants to safely transfer valuable merchandise directly from their vehicles to their offices and avoid carrying precious gems on the street. Its signature dome was also once home to the Stratosphere Club which was (wrongly) rumored to be run by Al Capone. Theater lovers will appreciate this skyline confection as they would an opulent big budget musical—a delight to look at and enjoy with a fun story that keeps you amused. Having recently undergone a multi-million dollar renovation, 35 E. Wacker is an icon that will continue to delight Chicagoans and visitors for generations.
Marina City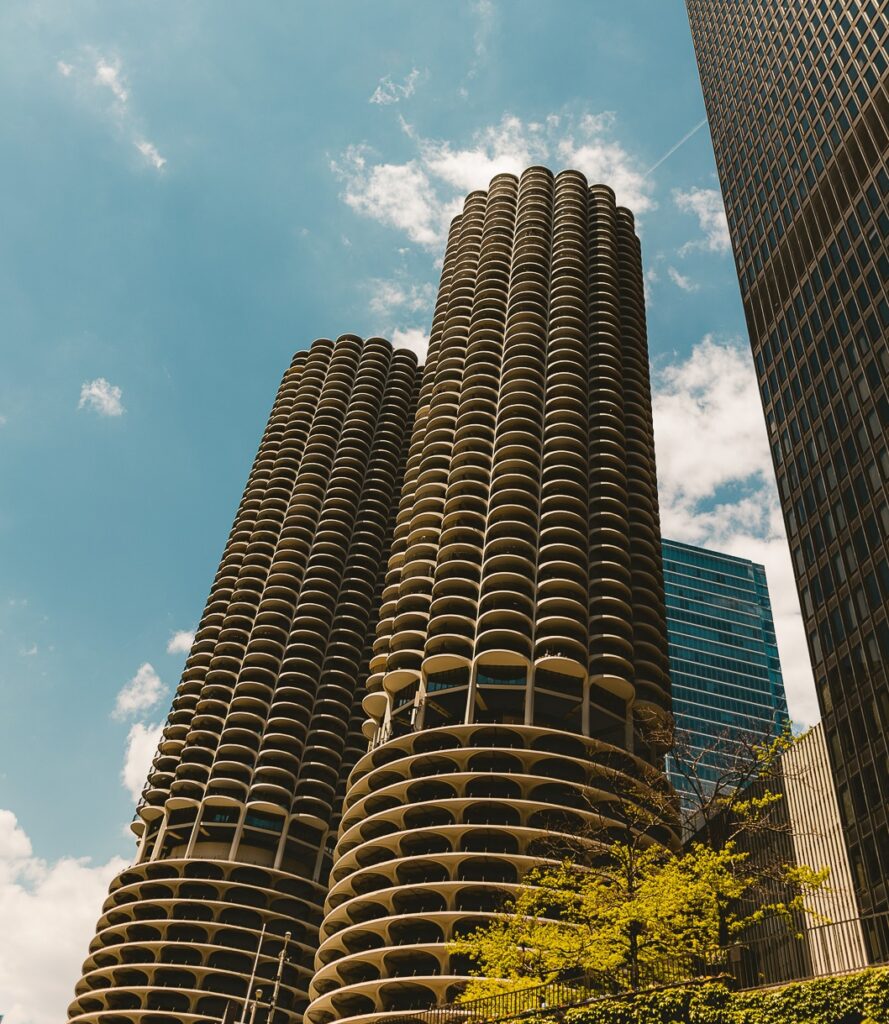 With its distinctive "corn cob" towers, Marina City has been a wildly successful experiment in urban living, allowing residents easy access to living, work and entertainment options since 1967. At its inception, the concept of mixed use buildings with residential and retail space was relatively new, so Marina City—designed by architect Bertrand Goldberg—was an innovative experiment that paved the way for many other developments in Chicago and elsewhere. Music lovers might recognize this iconic landmark as the album cover for Wilco's groundbreaking Yankee Hotel Foxtrot, and theater lovers can delight in these twin structures' playful vibe and long-lasting impact the way they might with twin shenanigans in Shakespeare's The Comedy of Errors or Twelfth Night.
Merchandise Mart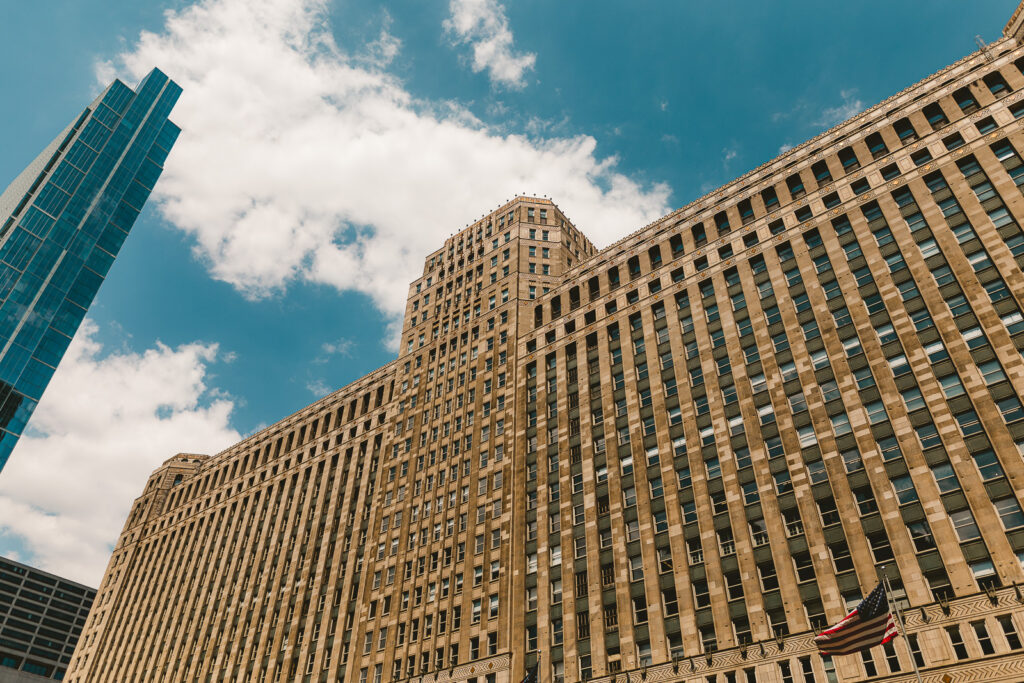 So large that it had its own zip code up until 2008, The Merchandise Mart (or as it's been rebranded: TheMART) is a massive, art deco structure on the Chicago River that boasts over 4 million square feet of showrooms and office space. Its footprint takes up room along the south riverbank the way Noel Coward and George Bernard Shaw dominated British theater in the 1920s. Like Coward and Shaw, the Merchandise Mart was a product of the '20s, celebrating the decade's optimism and love of excess. The total cost at the time was $26 million dollars—or about $400 million in 2021. Originally envisioned as a wholesale warehouse for Marshall Fields, TheMART now features a variety of showrooms open to wholesalers and many that are open to the general public. It's also home to a variety of large companies' Chicago headquarters including Motorola, PayPal, and Kellogg.
River Point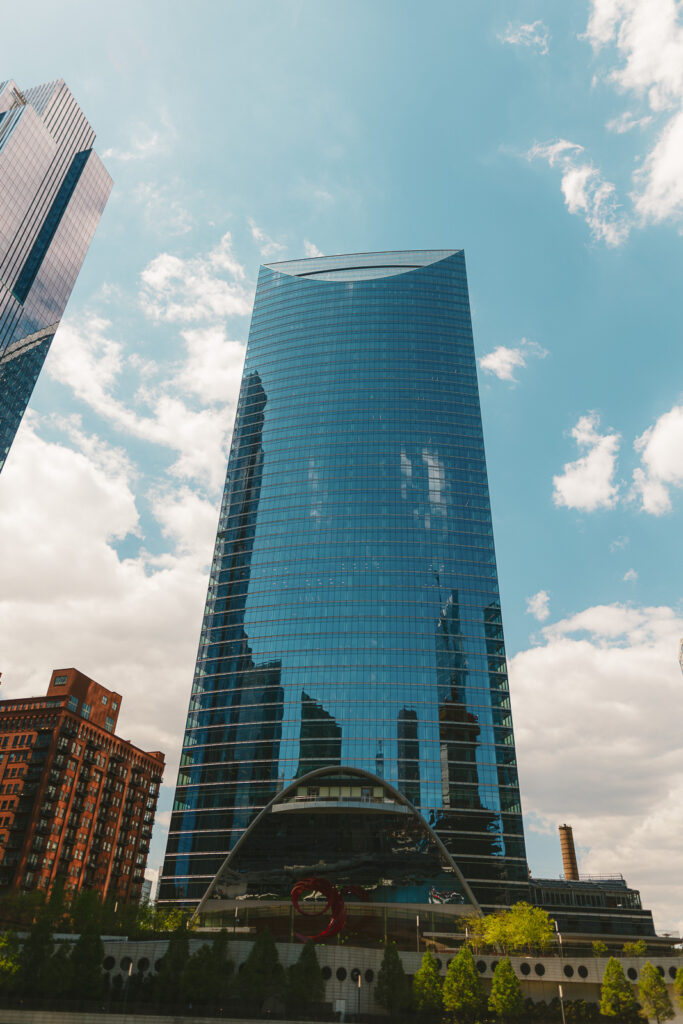 Your tour will hang a right to sail up the north branch of the Chicago River at this relatively new addition to the Chicago skyline. Completed in 2017, River Point features a public park on private land. Its eye-catching, reflective facade is a nod to another building on your tour—333 Wacker—and its mirrored facade which, like a new play at Steppenwolf, reflects the city back at itself, good bad, and everything in between.
Harry Weese River Cottages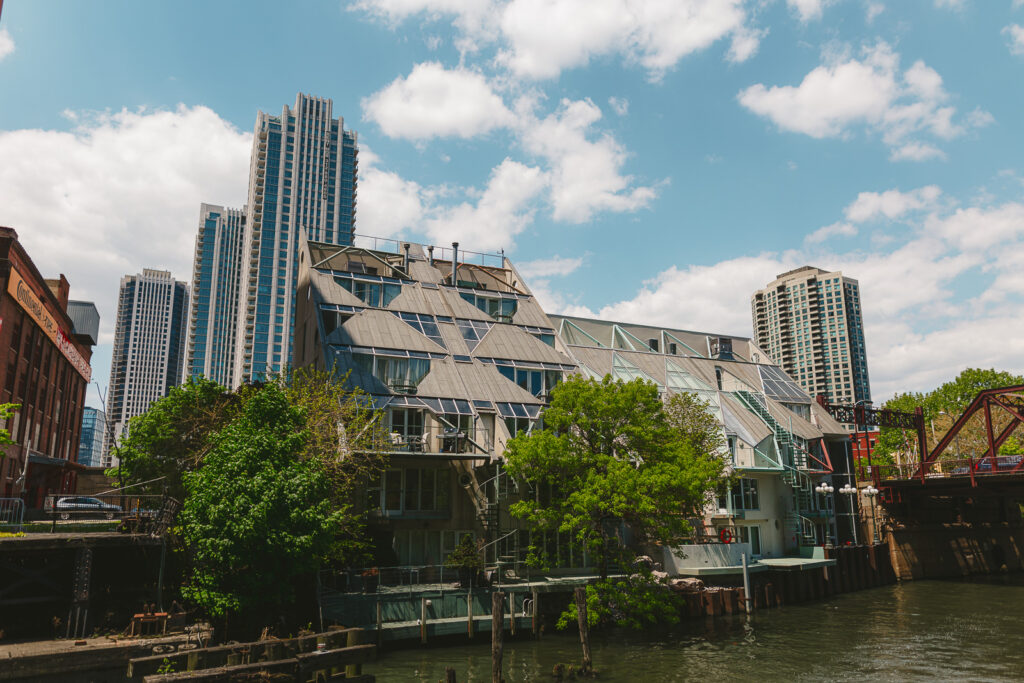 After you make the turn at River Point, you'll see the Harry Weese River Cottages on your left. These quirky, riverside cottages were built in the 1980s and were inspired by a housing project that architect and developer Harry Weese spied along the Danube in Budapest. The nautical-themed structures feature portholes, windows that evoke sails of a ship, and angles that echo the Kinzie Street Bridge on the river outside. It's the architectural equivalent of Lookingglass Theatre's epic 2017 production of Moby Dick and is almost as thrilling.
Historic Montgomery Ward Complex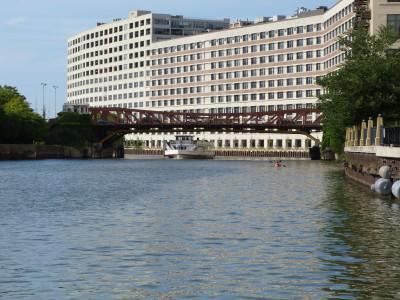 Your tour will turn around at this massive complex that housed the Montgomery Ward Corporation from 1907 until 1974. After its 2001 bankruptcy, the various buildings were converted into upscale condos, restaurants, a gym and an office and they house Groupon headquarters, among other things. Squarish and a little bit utilitarian looking with the occasional ornamental detail here or there (take a peek at the Spirit of Progress sculpture that adorns the roof of the Administration Building), the Montgomery Ward Complex has a tried and true vibe. It's like taking your mom to see the classic Broadway musical the Lyric Opera tackles once a year—you can count on it to be exactly what you expect but with a few unexpected details to tickle your fancy.
Revival—not a building, but a benefit!
After you take a peek at the Montgomery Ward Building, your trip will begin its return back the way you came, and then head down the south branch of the river. (Doubling back happens a couple of times on your trip.) Think of these turns as a "revival" of sorts— you get treated to another look at what you've already seen. Just like going back to see A Christmas Carol at The Goodman year after year or making sure you catch the latest tour of My Fair Lady when it comes through town, the about faces on your river tour mean you'll get a good look at everything the second time if you didn't see all you wanted the first time around. And if you've done a tour in the past, you're bound to see something new each time you go. Note that, depending on your tour guide, you might learn about the buildings in a different order than presented here. Regardless, you'll have a great time!
150 N. Riverside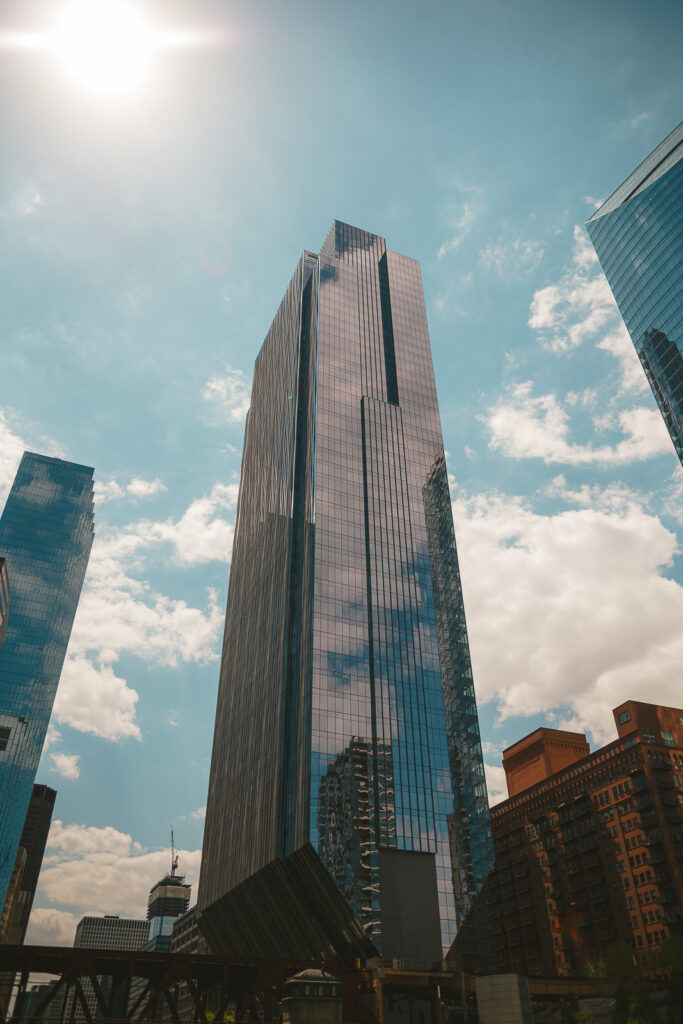 This architectural marvel looks like it ought to tip right over with a strong wind gust, but there's no need to worry. Architects from Goettsch Partners and engineers from Magnusson Klemencic Associates (MKA) have expertly and safely found a way to fit a 1.5 million square foot building onto a building site that's a mere 39 feet wide. It's the embodiment of virtually every rehearsal process ever—a marvel that's balanced on the time, talents and resourcefulness of all of the artists and technicians involved, and a feat that the public can simply enjoy worry-free.
Civic Opera House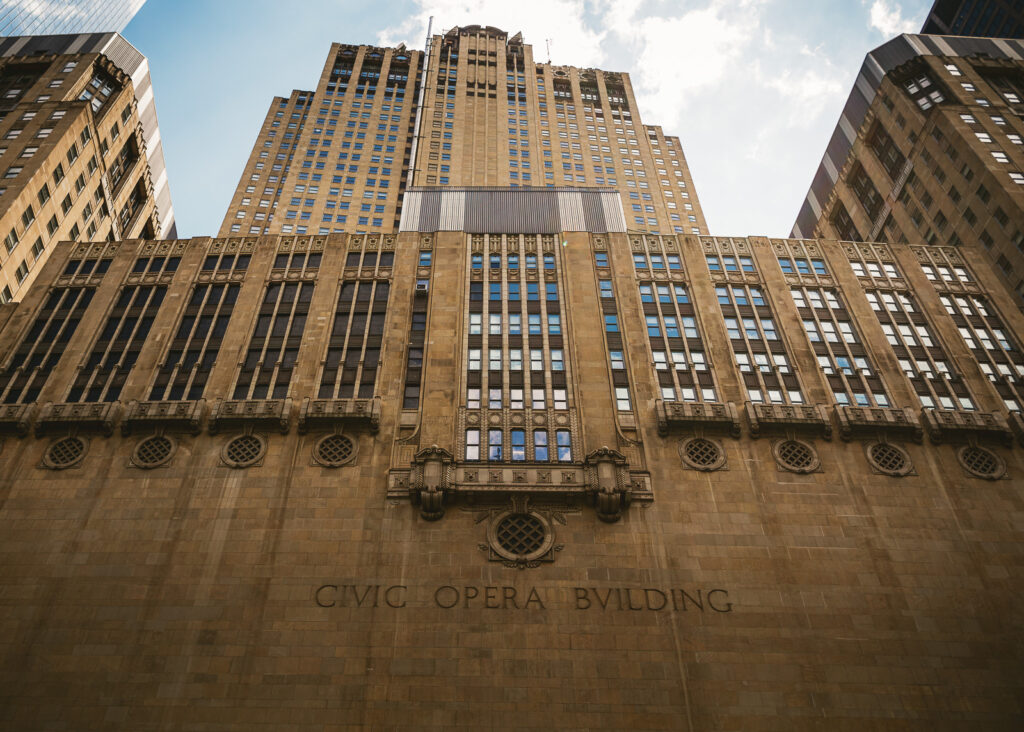 What theater-inspired tour of Chicago would be complete without a nod to the Civic Opera House? Home to the Lyric Opera since 1954 (with the Lyric formally buying the building in 1993), the Civic Opera House has recently become the permanent home to the Joffrey Ballet as of the fall of 2020. You'll notice that the building is shaped like a giant throne—the perfect image for the venue for all of the opulent productions and ballets you might see inside. The Civic Opera House has been quiet throughout the COVID lockdown, but audiences should keep an eye out for info about the reopening of this beloved venue and all of the others throughout the city.
Willis Tower (aka: Sears Tower)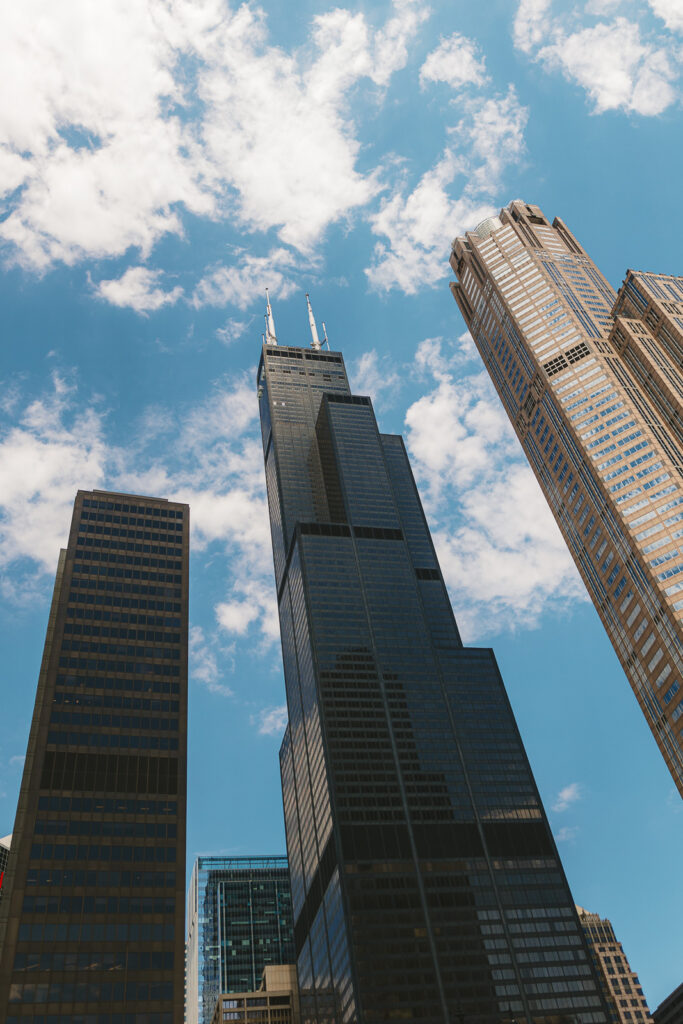 Many Chicagoans just can't bring themselves to call the 110 story building at 233 S. Wacker Dr. by its current name. The Willis Tower laid claim to the status of tallest building in the world from 1974 to 1998 when its height was surpassed by the Petronas Towers in Kuala Lumpur. Like any good story from dramatic literature, the tale of Willis Tower has always been full of conflicts. There were lawsuits seeking to halt construction, financial challenges throughout its history, and that much-debated Willis v. Sears name change. And let's not forget the major flood in May 2020 that resulted in a loss of power to the building and multiple TV and radio stations going off the air. The Macbeth of Chicago architecture, The Willis Tower is much beloved despite a history of challenges and a bit of bad luck. Chicago just wouldn't be Chicago without it!
River City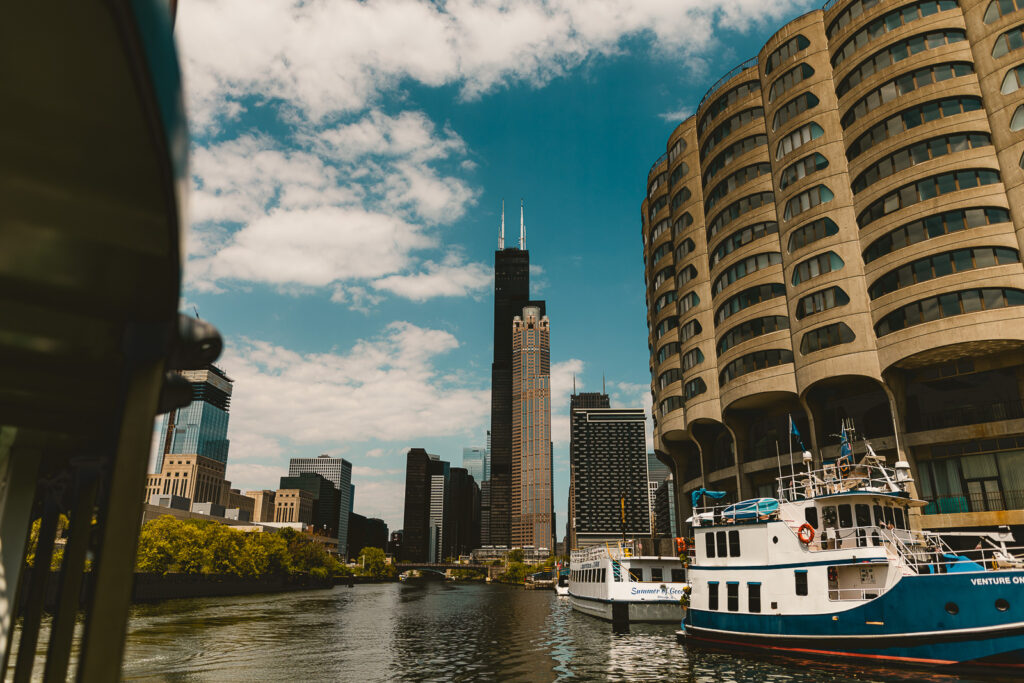 Chicago's First Lady will turn around as you take a peek at this Bertrand Goldberg-built apartment complex. River City definitely looks similar to another of his buildings you've already spied—Marina City. He'd intended this complex to be much larger than it actually is, fulfilling his vision of a city within a city. Whereas Marina City features living and retail spaces, River City was meant to have those features plus medical clinics and learning facilities. Ultimately the project needed to be scaled down when Chicago's Plan Commission failed to approve the more expansive version. Just as wily theatrical artists have managed to make magic with less capital and fewer resources than they'd hoped, Goldberg managed to create an iconic residential site that continues to resonate with Chicagoans decades after its inception.
Tribune Tower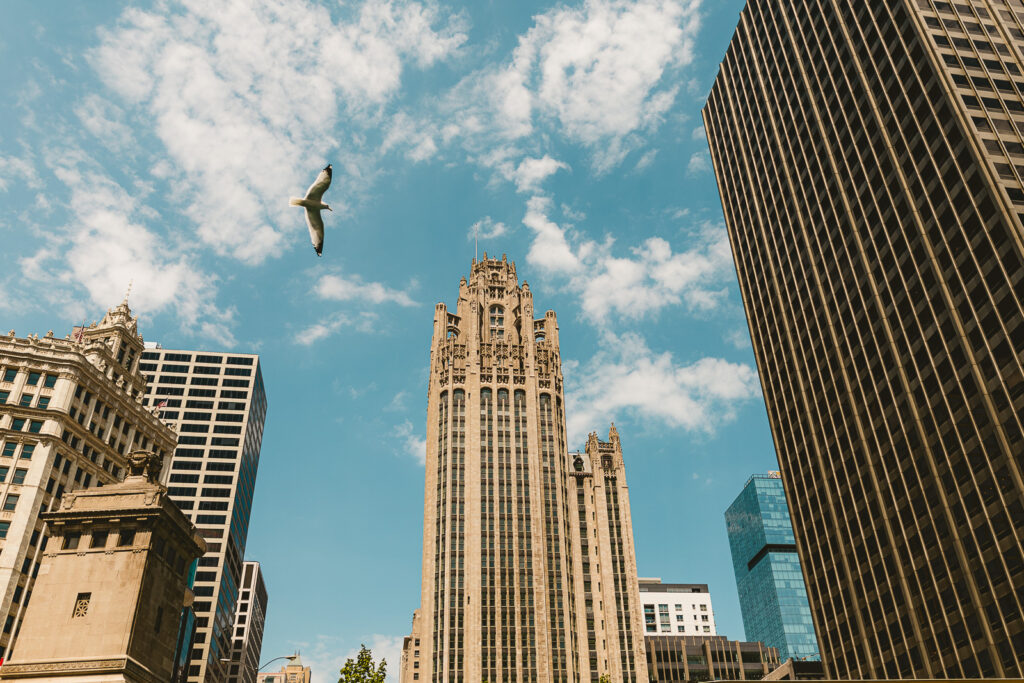 You'll pass by lots of buildings you enjoyed earlier in your cruise as you head back toward Lake Michigan. Along the way, Chicago's First Lady will keep moving toward the mouth of the river taking you past the magnificent gothic revival Tribune Tower. The result of a massive contest to honor the 75th anniversary of the Chicago Tribune, Tribune Tower was built between 1923 and 1925. It housed the offices of the Chicago Tribune as well as WGN until fairly recently. A renovation is underway to convert the entire office building into condominiums. Like the Chicago Theatre, The Uptown, and others have continued to reinvent themselves throughout the decades, so goes Tribune Tower, finding ways to continue to stay relevant well into the 21st Century.
Aon Building (aka: "Big Stan")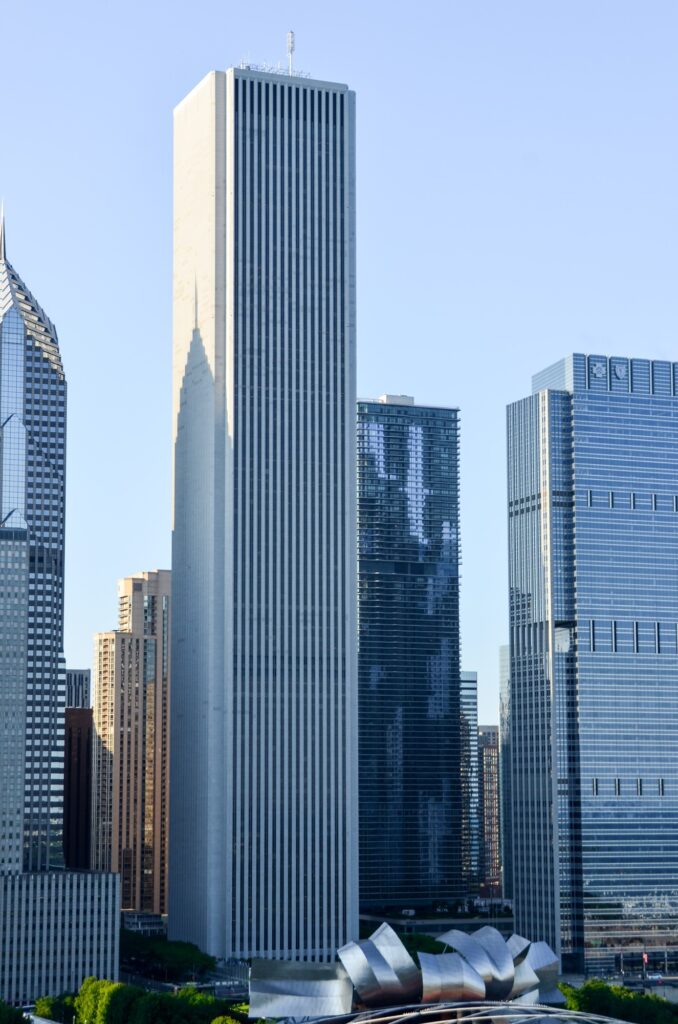 The third tallest building in Chicago, the Aon Building (originally known as the Standard Oil Building, hence the Big Stan nickname) is otherwise fairly nondescript. White, square, sort of unremarkable—until you start to investigate its colorful history. You'll get an earful about this structure regardless of which river tour you choose, so get ready for some good stories. For now, we'll just say that the Aon Building's original Carrara marble facade was a beautiful disaster akin to theater's infamous Spiderman: Turn Off the Dark. We'll let your tour guide fill you in on the rest!
Aqua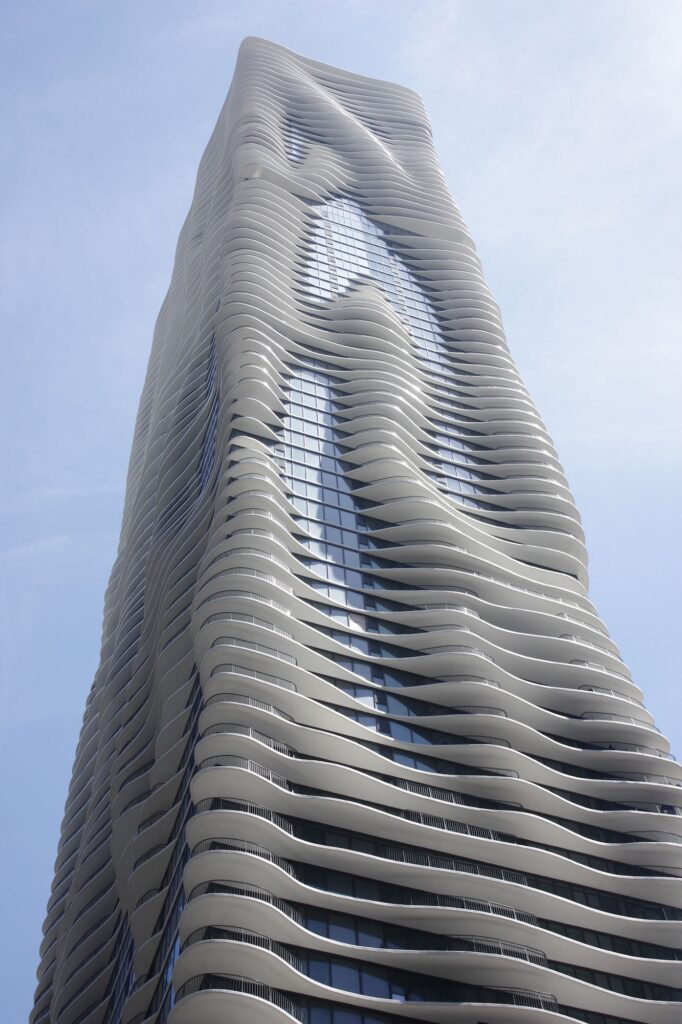 A relatively new addition to Chicago's incredible skyline, Aqua was completed in 2016 and has been a stunner from the beginning. Its striking, rippled exterior is meant to evoke the water that surrounds this award-winning building. Those ripples are beautiful to look at, much like the water just outside Theatre on the Lake (in Chicago's Lincoln Park) is part of the experience of seeing a show there, so too is Aqua tied to its natural surroundings.
875 North Michigan (aka: The Hancock Building)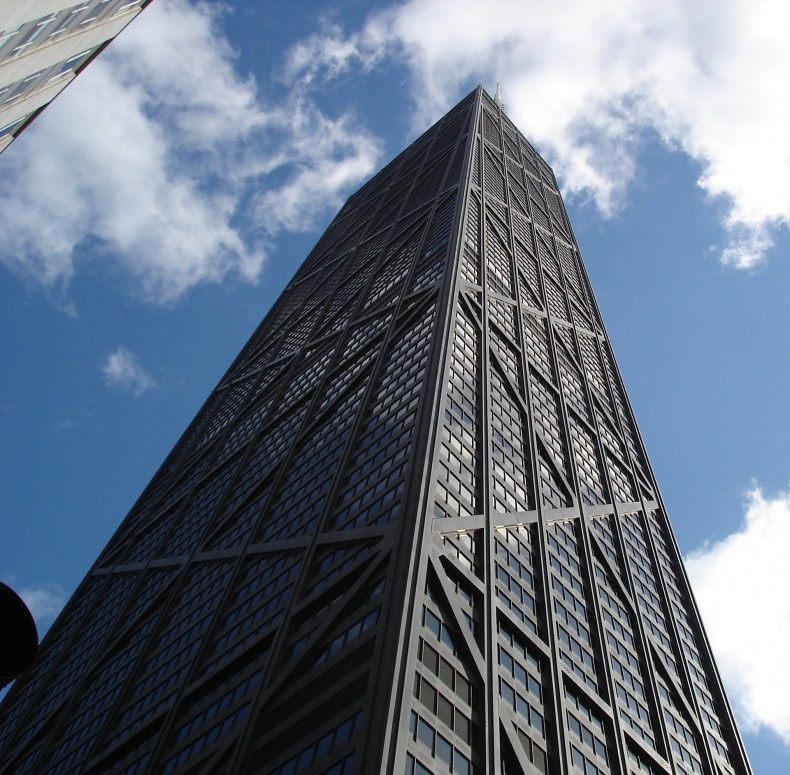 Strictly speaking, The Hancock Building isn't on the Chicago River, but you'll be able to see it clearly since this landmark is a whopping 1,499 feet tall. After your tour, you might be tempted to take another on land taking in the interior of Willis Tower, but we'd encourage you to consider The Hancock Building, too. It's sort of like Chicago's storefront theater scene. You suspect you'll get a more satisfying experience at one of the more well-known venues, but you might just be surprised if you consider an alternative. For theaters, you'll be treated to all sorts of surprises at a storefront from improv to avant garde experiences to honest, bare-bones productions. The Hancock Building isn't bare-bones by any means, but it has something to offer that you won't get on your Willis Tower adventure—a super fun bar and restaurant at the top with views for days. Plus, you don't have to pay for the actual tour to head up to the Signature Room. Pro tip: the best view of Chicago is from the ladies' room on the 95th floor of 875 North Michigan!
Theater is absolutely coming back to Chicago, so you have lots to look forward to in the coming months. Until the curtains finally go up, however, take the leap and head out for a Chicago River architecture tour. You'll enjoy dramatic views and awe-inspiring stories as you learn a bit more about the City of the Big Shoulders and the sheer, unadulterated drama that inspired, and continues to be part of the buildings you've grown to love.